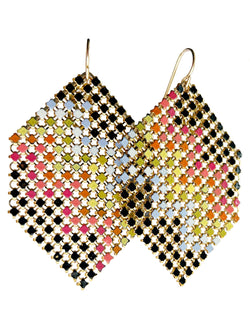 Rainbow Banner Mesh Earrings
These earrings were very limited, but a pair MAY still be available at one of our partner stores. See: the Stockists page.
Rainbow stripes wash across these large mesh earrings made from a rare, antique, hand-enameled, flapper purse (c.1920s-30s.) Bright mesh is suspended from 14k gold filled hangers and ear wires. Earrings measure 1.25" across and 1.75" long, each signed with our logo link.