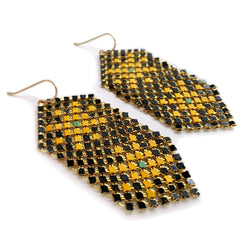 Double Asterisk Earrings
Playful starburst designs create a typical Mid Century graphic rendered in mesh from a 1920s-30s handbag. Designs are are hand-painted on the original antique bag. We're always on the lookout for mod graphics in these antique purses - these are a very special find.
Earrings hang 2.75" long and 1" wide, including the 14k gold filled ear wires. Each earring signed with our logo link.